Formal Employee Recognition Programs
Take time to appreciate employees and they will reciprocate in a thousand ways. Scroll down to see a list of LCC's formal recognition programs, along with ideas for informally recognizing your employees.
---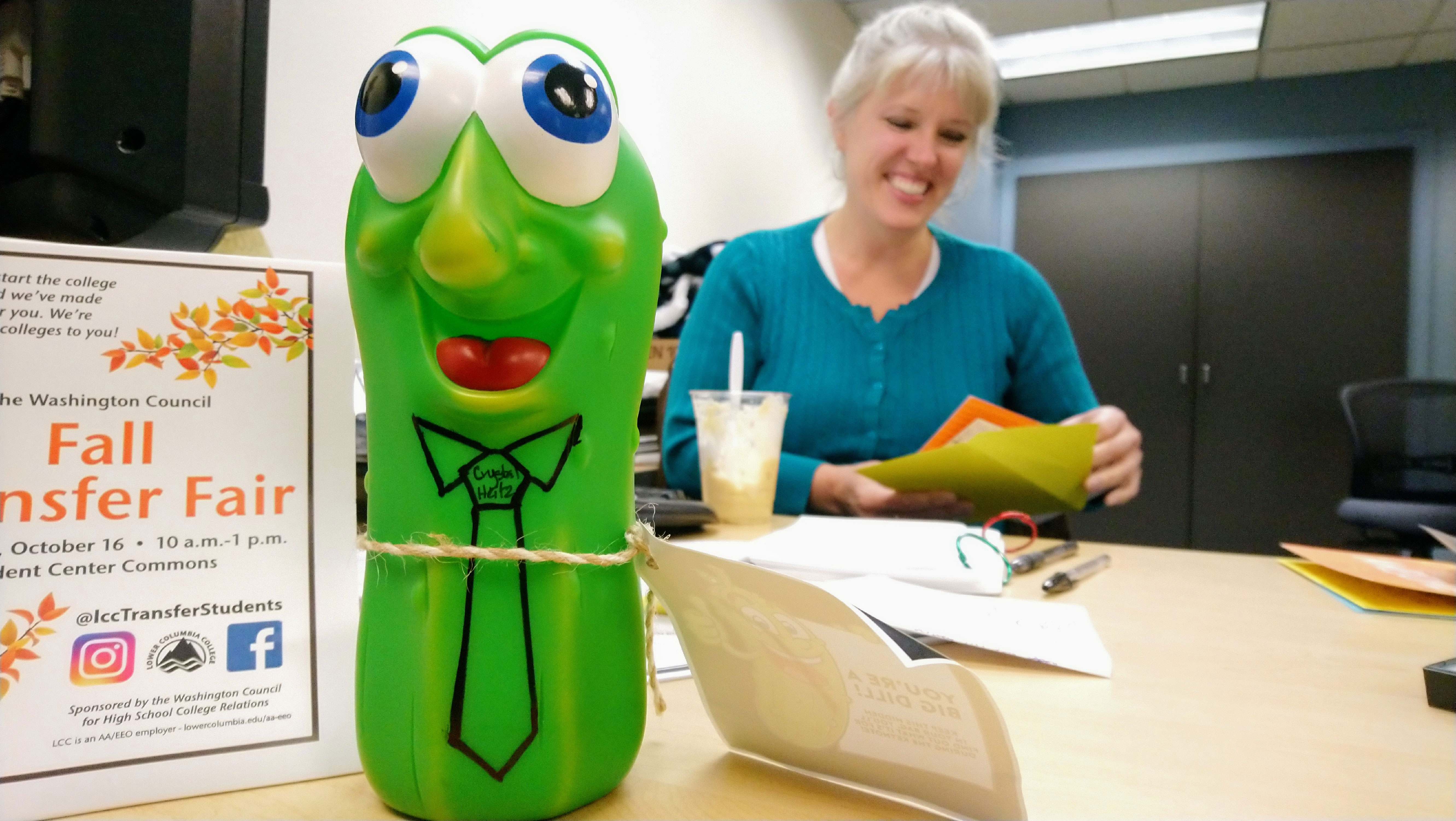 Pickle Award
LCC is recognizing exemplary customer-service by the "passing the pickle" movement. Recipients of the pickle are tasked with passing it on when they notice their peer doing something spectacular! At the end of the year, the employee with the top customer service story will receive the ultimate Platinum Pickle!
February 2020 Pickle Report
---
---
Minel Slabu
Lyda Stetzer
Lyda is a great example of a behind the scenes hard working employee, always ready to help and always with a smile on her face. She is always respectful and caring for her colleagues and it has been a pleasure for me to work with her in the past. I consider that her attitude and dedication to LCC does make a difference!
---
Troy Farnham
Yelena Pisarchuk
Yelena is always friendly and provides help to all with an enthusiastic smile.
---
Dave Rukkila
Jim Dillinger
Jim has made a huge difference in the safety area for the Diesel and Automotive shops. He is always going above and beyond to help our students. He is always going above and beyond to help our community especially those in need. Jim is the big Dill!
---
Yelena Pisarchuk
Julie Hawkins
I follow Learning Commons on Instagram and in my opinion Julie does fabulous job with our social media. The posts are always interesting, artistic, informative, and simply cool!
---
Jim Dillinger
Brian Mack
Brian is without a doubt one of the hardest working part time faculty here on campus, Brian is always available for a quick consult or to come to any of my classes for a quick impromptu talk about fire safety, fire extinguisher operation, lock out tag out or any other subject matter that falls within his well house. Brian is on campus more than some full time faculty, and with his extensive background as a paramedic, fire safety training and his knowledge about security he is a welcome addition to the safety and security of the Don Talley building and the LCC campus, so for all these reasons and more I nominate Brian Mack for the ugly pickle award.
---
Garry Lienhard
I'm giving the Pickle Award to Angel Ruvalcaba for all that he does for student success in the Testing Center. They touch student from so many of our program areas that we would not be as successful as we are with our Angel and all of his folks in the Testing Center. They also are the key to many other non-students success by offering open testing via the their partnerships. Therefore, I am passing my Pickle to Angel.
---
Past Pickle Recipients
---
Each quarter an outstanding classified employee is selected to receive an award. At the end of the year, the four quarterly award winners become finalists for Classified Employee of the Year. The awards are presented each quarter, and the Employee of the Year award is presented at the Spring Reception.
---
Each year an outstanding exempt employee is selected to receive an award. The award is presented at the Spring Reception.
See past of Exempt Employee Award Winners.
Exempt Committee Members: Sheila Burgin, Robert Cochran, Mary Kate Morgan, Nichole Seroshek, Alice Dietz
---
Informal Employee Recognition Ideas
Recognizing employees is vital! It only takes a moment to recognize someones great work and to acknowledge them for their work. Use our ideas as motivation to tell employees when they're doing well throughout the year.