Formal Employee Recognition Programs
Take time to appreciate employees and they will reciprocate in a thousand ways. Scroll down to see a list of LCC's formal recognition programs, along with ideas for informally recognizing your employees.
---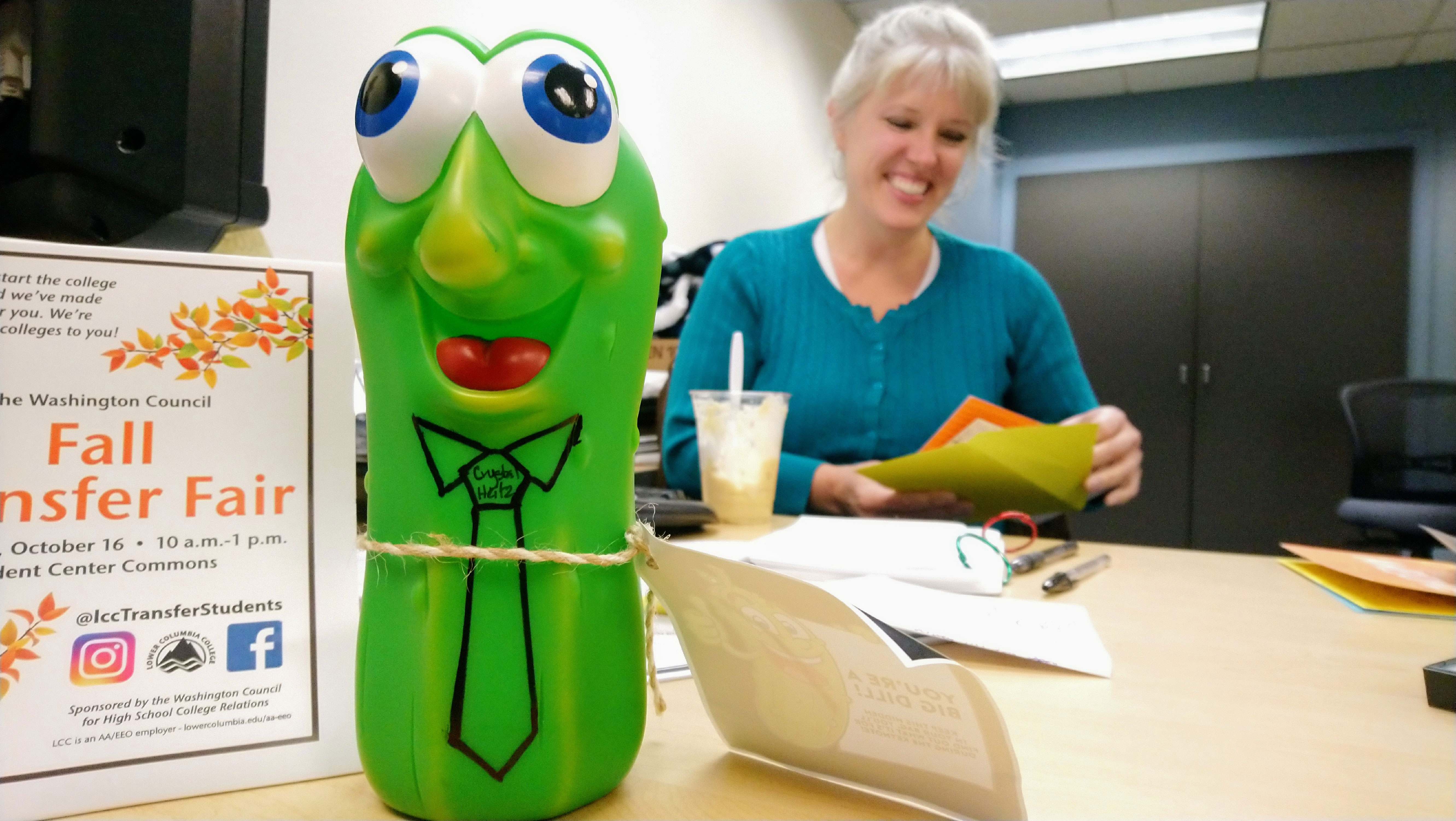 Pickle Award
LCC is recognizing exemplary customer-service by the "passing the pickle" movement. Recipients of the pickle are tasked with passing it on when they notice their peer doing something spectacular! At the end of the year, the employee with the top customer service story will receive the ultimate Platinum Pickle!
March 2020 Pickle Report
---
---
Brian Mack
Rheba Rukkila
Rheba Rukkila is my choice. It's easy to take things and people for granted when everything on campus runs smoothly. Rheba arrives for work every day usually two hours before the campus opens to unlock gates, buildings, and classrooms. She answers radio calls all day for help ranging from jump starting cars to suspicious activity on campus. I can always rely on Rheba to assist people who are having medical emergencies on campus as well. I am proud to pass the pickle on to Rheba Rukkila (The Jewel of LCC).
---
Rheba Rukkila
Mary Harris
I gave Mary Harris, Program Coordinator with Continuing Education the Pickle Award today. Mary has been at LCC for at least 20 years and in that time, has shown everyone from staff, students and our community outstanding customer service. Mary helps all these customers with enrolling in continuing ED classes, job enhancement classes and so forth. Mary has exceedingly showed her customer service by serving for many years on LCC's Safety Committee including being co-chair and recently as part of the CTC Link committee. I am always happy to see Mary as she inspires me with her enthusiasm, willingness to help and graceful contagious smile.
---
April 2020 Pickle Report
---
---
Holly Brewster
Magnus Altmayer
I'd like to nominate Magnus and his team. We've had some real difficulties getting the math (and other? I don't know) prerequisites to process properly, and it necessitated a ton of work on their part. Despite being thrown into chaos by all of it, they have worked tirelessly the last few days to get it straightened out and to get students where they need to be. The whole math department appreciates their work!
---
Janel Skreen
Trisha Hamilton and Alyssa Milano Hightower (LCC Bookstore)
Processed and packaged over 900 online book orders. Helped streamline the new voucher system for students to get books while they waited for financial aid to distribute in ctcLink. Set up and coordinated a drive through pickup for books and supplies for students. Numerous other improvisations to continue service to students.
---
Janel Skreen
Desiree Gamble, Cindy Prato, and Jessica Wilks (LCC Finance Office)
All of these ladies have worked tirelessly to correct the ctcLink conversion glitches in order to process financial aid disbursements. Jessica has been available for student questions through out the process. Desiree in particular has put in a lot of additional hours (evening and weekends) regarding our general conversion to ctcLink.
---
Past Pickle Recipients
---
Each quarter an outstanding classified employee is selected to receive an award. At the end of the year, the four quarterly award winners become finalists for Classified Employee of the Year. The awards are presented each quarter, and the Employee of the Year award is presented at the Spring Reception.
---
Each year an outstanding exempt employee is selected to receive an award. The award is presented at the Spring Reception.
See past of Exempt Employee Award Winners.
Exempt Committee Members: Sheila Burgin, Robert Cochran, Mary Kate Morgan, Nichole Seroshek, Alice Dietz
---
Informal Employee Recognition Ideas
Recognizing employees is vital! It only takes a moment to recognize someones great work and to acknowledge them for their work. Use our ideas as motivation to tell employees when they're doing well throughout the year.