Formal Employee Recognition Programs
Take time to appreciate employees and they will reciprocate in a thousand ways. Scroll down to see a list of LCC's formal recognition programs, along with ideas for informally recognizing your employees.
---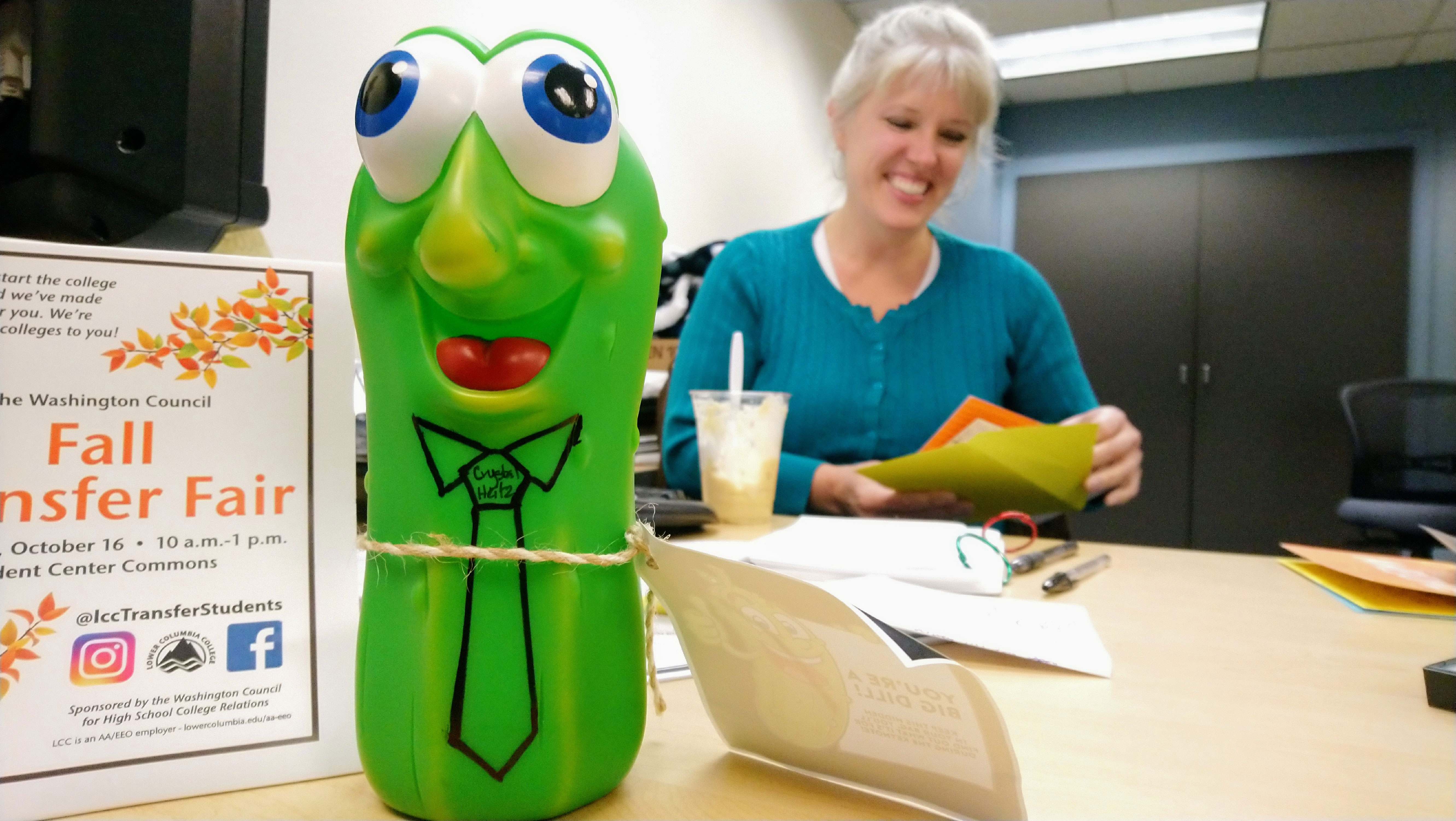 Pickle Award
LCC is recognizing exemplary customer-service by the "passing the pickle" movement. Recipients of the pickle are tasked with passing it on when they notice their peer doing something spectacular! At the end of the year, the employee with the top customer service story will receive the ultimate Platinum Pickle!
Fall 2019 Pickle Report
---
---
Theresa Stalick,
Transitional Studies
Rodney Miller,
Welding
Rodney went the extra mile by bringing his welding class into Transitional Studies to do the CASAS test. This ultimately led to the majority of the students becoming eligible for I-BEST and enrolling soon after.
---
Janel Skreen,
Environmental Health & Safety
Nathan Shepherd,
Machining Faculty
Nathan is eager to lend a helping hand! Numerous times he has assisted Ceramics with their safety needs by creating custom designs for them. He does so promptly and enthusiastically!
---
Crystal Heitz,
Workforce & Career Services
Jenny Smith,
One-Stop Center
Jenny has been providing exceptional customer service to LCC students since 1998! In September, another staff member was out sick. Jenny jumped in with a smile and no hesitation to save the day by covering the Entry Center phone calls.
---
Katelyn Berezo,
Tutoring Center
Alexis Doble,
One-Stop Center
Alexis goes out of her way to understand students' needs, relate to them, and do everything in her power to get them everything they need.
---
Alexis Doble,
One-Stop Center
Britney Deal,
Registration
Britney is a great role model for exemplifying high quality customer-service and she always puts student success first.
---
Britney Deal,
Registration
Kara McElroy,
Registration
Kara makes a major effort to serve not only our students, but to provide support and information to LCC faculty and staff as well. We can always rely on her for help and a positive attitude.
---
Jenny Smith,
One-Stop Center
Troy Turley,
Auto Parts
Troy is kind and grateful! Troy adds great value because he is supportive, informative, and tries to anticipate what might be needed in the future.
---
Each quarter an outstanding classified employee is selected to receive an award. At the end of the year, the four quarterly award winners become finalists for Classified Employee of the Year. The awards are presented each quarter, and the Employee of the Year award is presented at the Spring Reception.
---
Each year an outstanding exempt employee is selected to receive an award. The award is presented at the Spring Reception.
See past of Exempt Employee Award Winners.
Exempt Committee Members: Sheila Burgin, Robert Cochran, Mary Kate Morgan, Nichole Seroshek, Alice Dietz
---
Informal Employee Recognition Ideas
Recognizing employees is vital! It only takes a moment to recognize someones great work and to acknowledge them for their work. Use our ideas as motivation to tell employees when they're doing well throughout the year.